Jollibee Grand Opening in Edmonton | First-Ever in Alberta
Events
Aug 16th, 2019
We are so excited to announce Jollibee officially opened in Edmonton Friday! This is the first-ever Jollibee in Alberta so as you might expect, everyone was excited to be there — including our team!
If you haven't tried Jollibee yet, you're missing out! The Filipino fast-food giant is a staple in the Philippines. They have everything form Palabok Fiesta noodles to chickenjoy, burger steak, and spaghetti. And we can't forget about our favourite menu item — the peach mango pie!
The Big Day
Jollibee opened its doors at 7 a.m. and the crowds had already formed. No, seriously! That's how much Kababayans LOVE Jollibee! We talked to some people who had been waiting outside for days. When they told us the first 50 customers had the chance to get a year's worth of chicken, we understood why!
Here is the team excited and ready to roll out. Des went to check on the line-up the night before and said people had already been waiting for hours.
The things we do for some Jollibees…
Ready. To. Eat! Des was right. The line-up was wrapped AROUND the block and there was easily 400 people in front of us. The wind was cold and all we could do was stare at the people who had already made it inside and watch as they enjoyed their pie.
Thankfully, no-one cried, but we were SO hungry.
Our spirit isn't broken just yet… still willing to wait.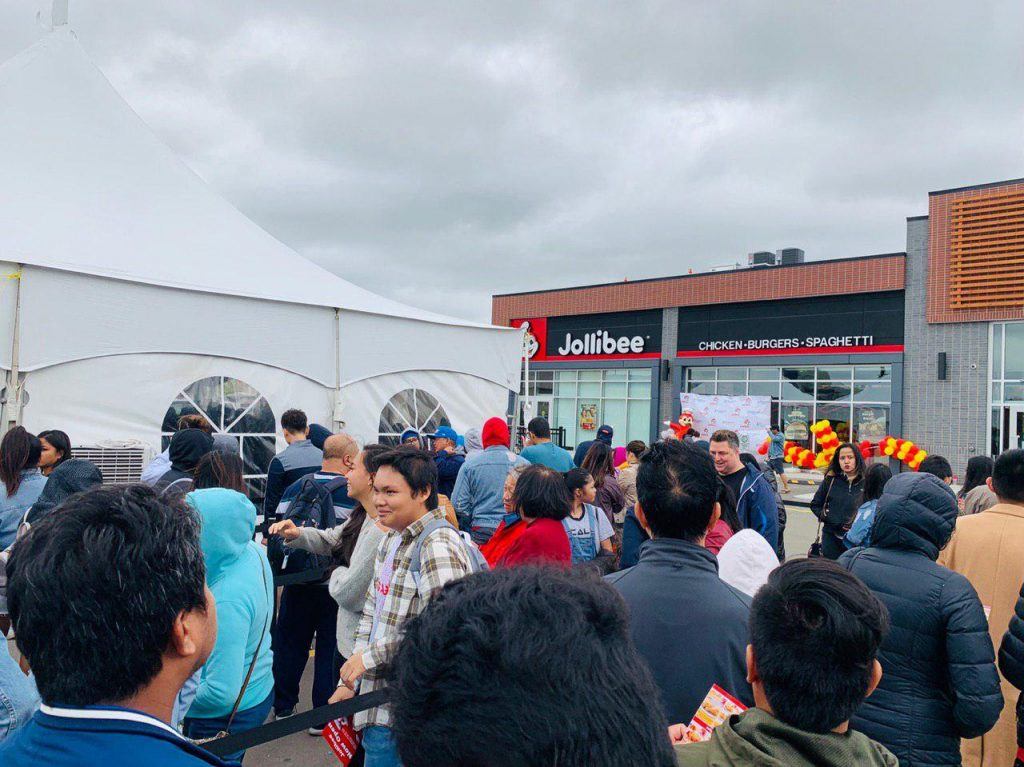 It started getting pretty windy and it seemed like the line-up hadn't moved at all. At least they had a DJ outside playing music!
We talked to a few of our customers who had been there for hours already and still weren't inside.
We decided to snap some pictures with the Jollibee himself and come back another day when it isn't so crazy! If you want to check out what all the madness is about, find the brand-new Jollibee on Calgary Trail. We recommend bringing a chair to sit on and some snacks because you might be waiting a while.
But we promise it's totally worth it!