Local Auto Team Lends a Hand for McHappy Day
Blog
May 22nd, 2019
Wednesday, May 8th is McHappy Day and the team was at a local McDonalds to lend a helping hand. On McHappy Day, $1 from every Big Mac, Happy Meal or McCafe is donated to Ronald McDonald House Charities Canada and children's charities across Canada. This is a cause near-and-dear to our hearts, so we decided to get involved and lend a helping hand. LITERALLY! We took a break from selling cars for a few hours to roll up our sleeves and get saucy.
The afternoon was off to a quick start. Our leader-and-chief, Lampa, was at the burger station. While he might have started off a little slow with the ketchup gun, he definitely had the hang of it by the end. Also, we're not sure if we've ever seen Lampa NOT in a suit… it was kind of weird.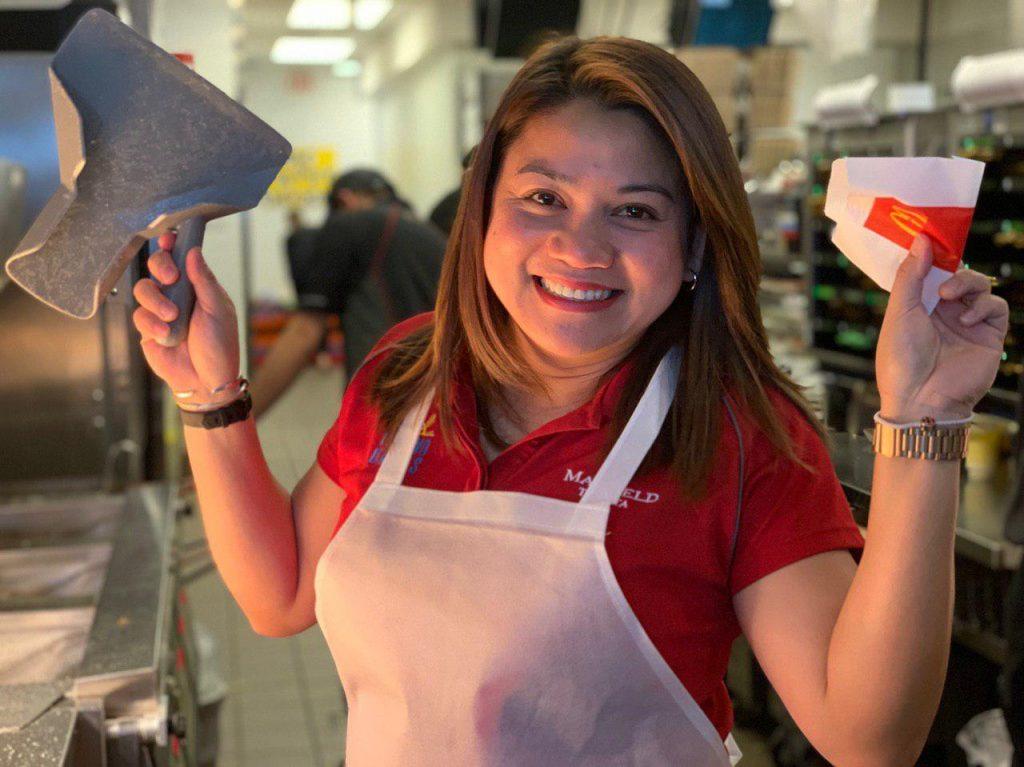 Desiree was a french fry scooping SUPERSTAR! Honestly, whatever Des does she kicks butt at. To follow her adventures (and she does a whole lot more than sell cars), click here.
Larry is the newest member of the team and is a perfect fit with his personality and work ethic. He served up nothing but smiles all afternoon and might have even sold a few cars while he was manning the front till.
We get really busy at the store sometimes. Taking a future customer on a test drive or walking someone through the new features of a car can take time. We'll even drive as far as Grand Prairie to deliver a car for one of our clients. But McHappy day was a whole new kind of crazy. With a line-up out the door and a packed drive-thru, we were slammed in whole new way!
Some of our new friends and coworkers for the afternoon. Everyone was super helpful and showed us the ropes before it got crazy.
Ronald McDonald Houses across the country provide families of sick children with a home to stay at while their child is being treated at a nearby hospital. They also have rooms inside the hospital where families can go to spend time with their loved ones and get some much-needed rest.
Did you know there are 15 Ronald McDonald Houses, 16 Ronald McDonald Family Rooms and 1 Ronald McDonald Care Mobile across Canada? Proceeds from McHappy Day go to help to fund all of them and make a difference in these families lives!
Ronald McDonald Houses serve approximately half of all the families in Canada who have sick, terminally ill or injured children. That means someone you know has probably used or been helped by a Ronald McDonald house, and that's why this day is so important. It's all about raising as much money as we can to support a great organization doing great work right here in the community.
The staff even made a special cake for the day and there was a big buffet of Filipino treats in the back for us to snack on after we were done putting in our shift.
Thanks for having us, McDonalds! Not only was it fun to try our hands at something besides selling cars, it felt great making a difference — even if it was just for a few hours.
If you're interested in McHappy Day or Ronald McDonald House Charities, learn how you can help here.