Filipino Drives Visits Local Whyte Ave Ice Cream Shop
Blog
May 22nd, 2019
The Filipino Drives team headed to Whyte Ave last month to visit Yelo'd, Edmonton's first custom cake and  Filipino ice cream shop. As passionate supporters of local business, we were beyond excited to meet owners Jason and Ailynn, who have made a lasting impact on the Whyte Ave food scene and created a pretty sweet legacy for themselves — pun intended!
We know that in order for our community to thrive, we need to support local entrepreneurs and businesses, especially our fellow Kababayans. So, with a slow day at the dealership and a bunch of hungry teammates, we decided Yelo'd was the perfect destination for a road trip. Plus, look how excited Lampa is for ice cream!
We all packed into a Toyota Tundra and headed south to try the famous Yelo'd ice cream we had heard so much about!
The second you walk in the door, you feel the "Mom and Pop shoppe" vibe they're going for. The smell in the air instantly had all our mouths watering.
Yelod offers both baked goods and traditional Filipino ice cream flavours. The bake side includes cakes, cookies, ensaymadas, yelo buns (which our very own Desiree tried and LOVED), and leche flan!
Their soft serve flavours are inspired by Filipino flavours that include Ube, Buko, Mangga, Pinya, Milo, Matcha, Tang, Saging, Pakwan, and more, AND they rotate their flavours every two weeks!
Ailynn was incredibly hospitable and a pleasure to meet. She walked us through all the flavours and even let us sample a few! Everyone liked something different, so we ended up trying almost the entire menu.
 If there is one thing we've learned as a team, it's how important it is to connect with your customers. Everyone who has bought a truck or car from us instantly becomes a part of our family. And that's exactly how Ailynn made us feel — right at home! We even got to speak some Tagalog with her.
Although the ice cream market in Edmonton is very competitive, hard/scooped ice cream businesses tend to be the majority. Ailynn and her husband specialized in soft serve, which means the flavours can be changed quickly (every two weeks) and all types of different toppings can be added to each order to make every cone or cup unique! And, by using Filipino/Asian flavours, they stand out from their competitors, because let's face it: it's so delicious! 
We're all pretty big fans of ice cream. But there is just something about eating local that tastes SO much better.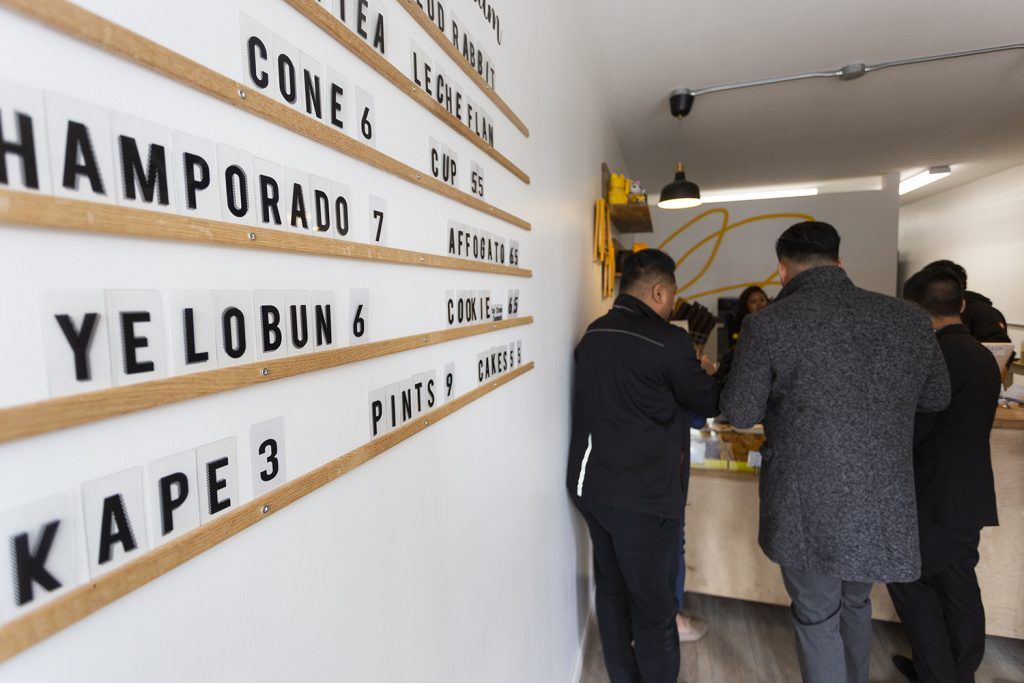 Which such a big selection, it really was hard to choose! All of us were back-and-forth, except Desiree, who didn't stop talking about the yelo buns the whole drive down.
The yelo buns are actually made with Filipino buns called pan-de-sals! The are freshly baked buns that are a unique way to make an ice cream sandwich. Trust us, you've never had an ice cream sandwich as good as this one…
Next time you see Desiree, make sure to ask her how delicious it was. Judging by her face, she loved it!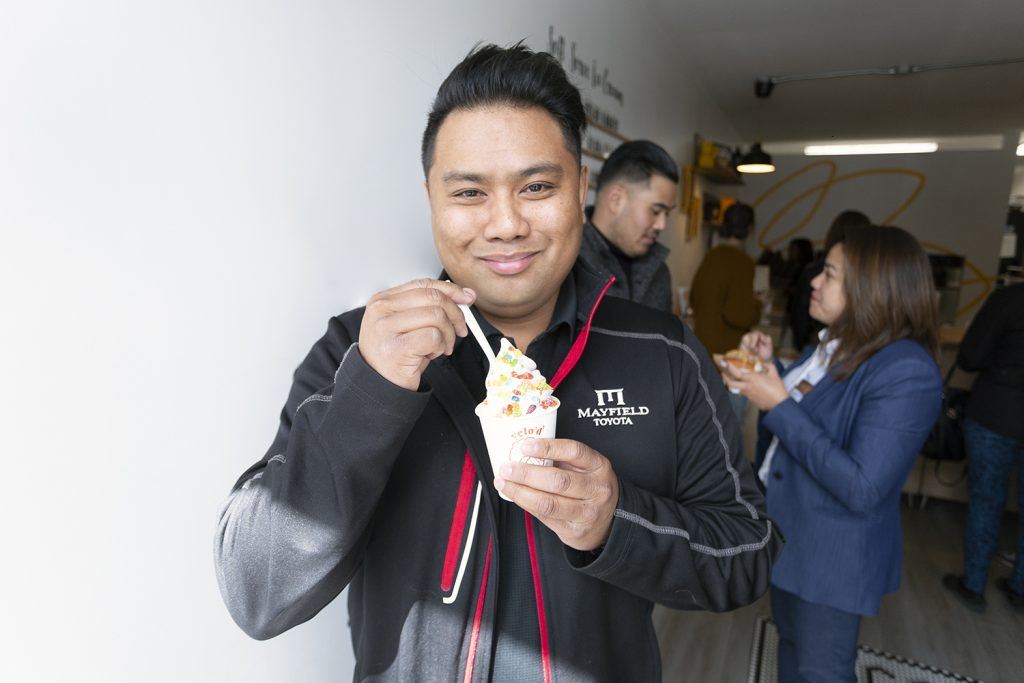 Joald was between a few flavours but eventually went with the Ube and some tasty cereal on top.
Lampa decided to go with the cup. He didn't want to get any cone crumbs on his suit… (he's fancy like that)
C'mon! How tasty does that look? Those are the faces of some very satisfied customers!
Edmonton isn't the only place with a Filipino and Asian flavoured soft serve shop. They're actually a huge hit in the United States and have already developed huge markets in bit cities like New York, LA, and Toronto.
We ended up timing our adventure perfectly. There was a busload of kids visiting Yelo'd on a field trip. Luckily, we beat the rush and got to spend some time socializing and trying some samples out before we headed back to work for the afternoon.
A BIG THANK YOU to our new friends at Yelo'd for the hospitality. The ice cream was delicious and we were so impressed with the quality. We will definitely be back and will recommend it to all of our customers, family and friends!
Where should we go on our next adventure? Leave us a comment below and tell us some of the places YOU like to visit in Edmonton!